Freeze Dried BBQ Chicken Pizza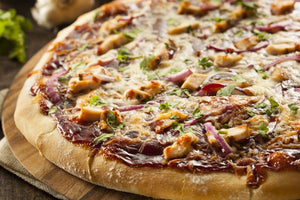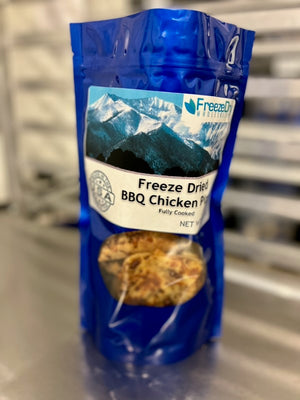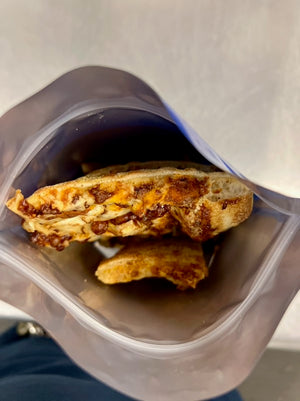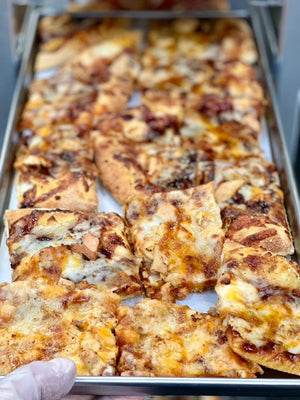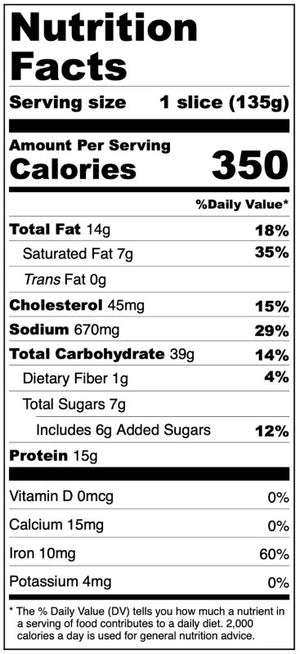 Pre-Sale Purchase of One (1) package of freeze dried BBQ Chicken pizza packaged for long term storage.
Vacuum sealed, packed in a moisture and oxygen-free environment
Easy-tear top bag that is re-sealable
Fast, free shipping
5+ year shelf life
AND
100% satisfaction guarantee with FREE return shipping and FULL refund if you are not 100% satisfied
With this product you will be purchasing one bulk package of freshly baked freeze dried Memphis-style BBQ chicken pizza with a net weight of 9.65 ounces, packaged for long term storage.
This bag contains 9.65 ounces of freeze dried BBQ chicken pizza that has already been cooked and square cut for you, which is the equivalent of 38.6 ounces / 2.4 pounds (about 3/4's of a large pizza) if purchased at your favorite pizza take out place once rehydrated and ready for use. Each ounce of freeze dried pizza will weigh approximately 4 ounces of freshly baked pizza when rehydrated.

This package of BBQ chicken pizza has already been cooked to perfection and square cut for you, so it is perfect to take on a hike or a camping trip without the hassle, mess and waste of having to lug a cooler around with a lot of ice.

Simply rehydrate with water or steam (instructions on the label) heat and serve!  Also pretty darn good freeze dried right out of the pack for a crunchy, nutritions, high-energy/protein snack/meal on the trail!!

Commercially prepared by a leading Government Contractor
Ingredients: Provolone Cheese [Provolone Cheese (Pasteurized Milk, Cultures, Salt, Enzymes), Nonfat Milk, Sodium Propionate (Added as a Preservative)], Grilled Chicken [Boneless, Skinless Chicken Breast Strips With Rib Meat, Water, Seasoning [Yeast Extract, Garlic Powder, Buttermilk Powder, Onion Powder, Maltodextrin, Modified Corn Starch, Lipolyzed Butter Oil, Salt, Whey Powder (Milk), Dehydrated Garlic, Chicken Powder, Flavors, Sunflower Oil, Disodium Guanylate And Disodium Inosinate, Spices, Chicken Fat, Chicken Broth, Sodium Caseinate (Milk), And Sodium Phosphate], Modified Food Starch, Vinegar, Salt, Sodium Phosphates], Honey BBQ Sauce [Sugar, Water, Tomato Paste, Distilled Vinegar, Honey, Molasses, Brown Sugar, Contains Less Than 2% of Salt, Natural Flavor, Modified Corn Starch, Natural Smoke Flavor, Aged Cayenne Red Pepper, Garlic,* Paprika, Spice, Mustard Seed, Onion,* Yeast Extract, Xanthan Gum, Sodium Benzoate and Potassium Sorbate (Preservatives), Celery Seed, Chili Powder (Chili Pepper, Spice, Salt, Garlic), Chipotle Pepper Powder, Mustard Bran. *Dried], Pizza Cheese [Part Skim Mozzarella Cheese (Pasteurized Milk, Cultures, Salt, Enzymes), Modified Food Starch, Cellulose (Added To Prevent Caking), Nonfat Milk, Whey Protein Concentrate, Flavors, Sodium Propionate (Added as A Preservative)], Fresh Yellow Onions, Cheddar Cheese [Cheddar Cheese (Pasteurized Milk, Cheese Culture, Salt, Enzymes, Annatto Vegetable Color Added), Potato or Corn Starch and Powdered Cellulose Added To Prevent Caking, Natamycin (A Natural Mold Inhibitor)] 
CONTAINS; Wheat, Milk, Soy
Unopened Bags
Freeze Dry Wholesalers, Inc. guarantees a shelf life to 10 years on every product we sell. But with the advances that have been made in the new multi-layered, bonded and composite mylar packaging that we use, you can likely double that and probably even triple it if you just keep them sealed in the factory packaging and store them out of direct sunlight. This is similar to the shelf life of canned items, with the only difference being that cans are more rodent-proof than mylar pouches, so store you pouches in a bin or an area that is rodent free.
We use this new packaging on all of the products we manufacture, because besides better portion control and the cost savings of not having to use a steel can, the biggest benefit to you is that we can now ship all of our items in smaller boxes without bulky packing materials without fear of damages or denting like you would normally worry about with cans. And since all of the shipping carriers base their rates on "dimensional weight" (or size) instead of just the weight, for the first time ever, we're able to offer free shipping on all of our products because our shipping boxes are smaller and lighter and therefore less expensive for us to ship to you safely and discreetly.
Another advantage of this new packaging is that you can actually see the product through the window without having to open a can or a pack. No more guessing what is in there! Plus, when you do open a pouch and want to save a portion for future use, it is quick and easy to just "zip" the remaining portion back up in the pouch with the integrated closure and leave it for a future date.
After Opening
Once you tear open a package and remove a portion of the food to consume, when you reseal the bag with the remaining foodand keep the oxygen absorber and the moisture desiccant in there, you'll drop the shelf life from 25+ years to approximately 3 months to a year depending on a number of factors (what the product is, how well you seal the bag, how much oxygen was introduced and for how long, how much moisture was introduced in the form of humidity, etc.).
The bags we use have their own zip enclosure built-in, so it's easy to just "zip" the remaining portion back up in the pouch and leave for a later date. However, if you have a home vacuum sealer, you can reseal the pouch using your sealer to remove any residual oxygen and that will extend the remaining shelf life out to 5+ years at a minimum.
To be safe though, we recommend that you use any remaining portions of meat in a bag that was opened and re-closed within 90-days/3 months. Non-meat items like fruits, vegetables, side dishes and dessert will probably last up to a year once opened and re-sealed depending on the conditions where you are.